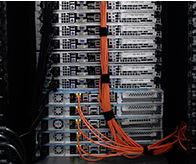 Our servers sit in a datacenter in Atlanta Georgia which has a network which consists of multiple 10 G Ethernet connections back to key communications centers in Atlanta. We connect to 56 Marietta and are able to handle up to 160 Gbps Ethernet metro cross connects to any one of the more than 100 carriers located in the Telx building. The network also has several carriers on-net including Level 3, XO Communications, Cogent, AT&T, Comcast and AboveNet. SSAE 16 Type II Compliance Audit Complete (formerly SAS 70).
Multiple utility feeds from separate substations with diverse building entry. Engineered for high-density and critical power needs.
Two feed (primary) UPS systems:
One 3-module (N+1) 750kVA unit
One 4-module (N+1) 2,000kVA unit
Two feed (redundant) UPS systems:
One 1-module 750kVA unit
One 2-module 1000kVA unit
One 2MW and ten 500kW diesel powered generators (N+1 capacity)
Control via dual PSSI static switchgear units
2,000 gallon on-site fuel storage tank + 5,000 gallon belly tank
Cooling:
Redundant cooling towers.
Multiple pumps (N+1) to circulate water to CRAC units.
Multiple CRAC units setup in a zone configuration.
36,000 gallon storage tank to hold make-up water for cooling towers.
Private well to supply make-up water (well is backed up by city water).
Facility:
27,000+ sq ft of non-raised floor data center space.
25,000+ sq ft of raised floor data center space.
Secured facility with 24×7 video monitoring and armed security.
24x7x365 on-site technical staff.
Secured access to facility (controlled by a combination of proximity cards and biometric hand scanners).
Network:
Level 3 (10 Gbps).
nLayer (10 Gbps).
XO (10 Gbps).
PCCW/BTN (2 Gbps).
*BGP Optimized